General information
---

---
Torhunger and Soccer City - strong partners!
---

---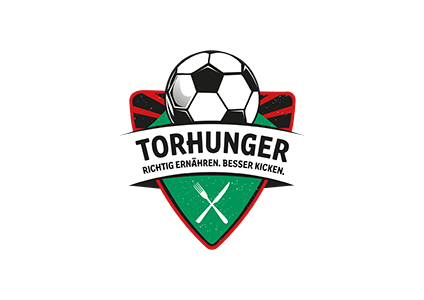 Torhunger – Feed properly. Kick better.
This is the motto under which REWE, in partnership with the DFB, firmly anchors the importance of healthy eating in German soccer - from the national teams to the amateur sector.
On torhunger.de REWE offers an extensive platform with tips for healthy nutrition. Here you can find out why the right nutrition is important for you and how it can help you take your performance to the next level. Current articles, videos and recipes will help you
Together with REWE, we aim to establish healthy nutrition in youth soccer. We are very happy to be a cooperation partner of this commitment and to support our camp participants with the exciting REWE training modules.
Unfortunately, no suitable soccer camp could be found for your search. Please adjust the search criteria.
Fußballcamp Nr. 43
27.12.2023 - 30.12.2023
Main focus: Torwart (Torhütercamp)
294,00 € (incl. overnight stay plus 85,00 €)
Weihnachtsferiennur Torhüter
Fußballcamp Nr. 44
27.12.2023 - 30.12.2023
Main focus: Torwart (Torhütercamp)
294,00 € (incl. overnight stay plus 85,00 €)
Weihnachtsferiennur Torhüter
Fußballcamp Nr. 45
27.12.2023 - 30.12.2023
Main focus: Technik - Dribbeln (Feldspielercamp)
189,00 € (incl. overnight stay plus 120,00 €)
Weihnachtsferiennur Feldspieler
Fußballcamp Nr. 46
27.12.2023 - 30.12.2023
Main focus: Technik - Dribbeln (Feldspielercamp)
189,00 € (incl. overnight stay plus 120,00 €)
Weihnachtsferiennur Feldspieler
Fußballcamp Nr. 47
27.12.2023 - 30.12.2023
Main focus: Technik - Dribbeln (Feldspielercamp)
189,00 € (incl. overnight stay plus 120,00 €)
Weihnachtsferiennur Feldspieler
Fußballcamp Ostern 1 (Torhüter)
24.03.2024 - 28.03.2024
284,00 € (incl. overnight stay plus 165,00 €)
Osterferiennur Torhüter
Fußballcamp Ostern 1 (Feldspieler)
24.03.2024 - 28.03.2024
214,00 € (incl. overnight stay plus 165,00 €)
Osterferiennur Feldspieler
Fußballcamp Ostern 2 (Torhüter)
02.04.2024 - 06.04.2024
284,00 € (incl. overnight stay plus 165,00 €)
Osterferiennur Torhüter
Fußballcamp Ostern 2 (Feldspieler)
02.04.2024 - 06.04.2024
214,00 € (incl. overnight stay plus 165,00 €)
Osterferiennur Feldspieler
Fußballcamp Sommer 1 (Torhüter)
24.06.2024 - 29.06.2024
314,00 € (incl. overnight stay plus 195,00 €)
Sommerferiennur Torhüter
Fußballcamp Sommer 1 (Feldspieler)
24.06.2024 - 29.06.2024
234,00 € (incl. overnight stay plus 195,00 €)
Sommerferiennur Feldspieler
Fußballcamp Sommer 1 + 2 (Torhüter)
24.06.2024 - 05.07.2024
539,00 € (incl. overnight stay plus 380,00 €)
Sommerferiennur Torhüter
Fußballcamp Sommer 1 + 2 (Feldspieler)
24.06.2024 - 05.07.2024
419,00 € (incl. overnight stay plus 380,00 €)
Sommerferiennur Feldspieler
Fußballcamp Sommer 2 (Torhüter)
30.06.2024 - 05.07.2024
314,00 € (incl. overnight stay plus 195,00 €)
Sommerferiennur Torhüter
Fußballcamp Sommer 2 (Feldspieler)
30.06.2024 - 05.07.2024
234,00 € (incl. overnight stay plus 195,00 €)
Sommerferiennur Feldspieler
Fußballcamp Sommer 3 (Torhüter)
15.07.2024 - 20.07.2024
314,00 € (incl. overnight stay plus 195,00 €)
Sommerferiennur Torhüter
Fußballcamp Sommer 3 (Feldspieler)
15.07.2024 - 20.07.2024
234,00 € (incl. overnight stay plus 195,00 €)
Sommerferiennur Feldspieler
Fußballcamp Sommer 3 + 4 (Torhüter)
15.07.2024 - 26.07.2024
539,00 € (incl. overnight stay plus 380,00 €)
Sommerferiennur Torhüter
Fußballcamp Sommer 3 + 4 (Feldspieler)
15.07.2024 - 26.07.2024
419,00 € (incl. overnight stay plus 380,00 €)
Sommerferiennur Feldspieler
Fußballcamp Sommer 4 (Torhüter)
21.07.2024 - 26.07.2024
314,00 € (incl. overnight stay plus 195,00 €)
Sommerferiennur Torhüter
Fußballcamp Sommer 4 (Feldspieler)
21.07.2024 - 26.07.2024
234,00 € (incl. overnight stay plus 195,00 €)
Sommerferiennur Feldspieler
Fußballcamp Herbst 1 (Torhüter)
07.10.2024 - 11.10.2024
284,00 € (incl. overnight stay plus 165,00 €)
Herbstferiennur Torhüter
Fußballcamp Herbst 1 (Feldspieler)
07.10.2024 - 11.10.2024
214,00 € (incl. overnight stay plus 165,00 €)
Herbstferiennur Feldspieler
Fußballcamp Weihnachten 1 (Torhüter)
27.12.2024 - 30.12.2024
254,00 € (incl. overnight stay plus 135,00 €)
Weihnachtsferiennur Torhüter
Fußballcamp Weihnachten 1 (Feldspieler)
27.12.2024 - 30.12.2024
194,00 € (incl. overnight stay plus 135,00 €)
Weihnachtsferiennur Feldspieler